April 2018
General assembly oft he SVEA/ASEA in Horgen – lake Zürich
The annual general assembly of SVEA/ASEA took place at Horgen at the lake Zürich from April 28 to 29, 2018. The local model railway club (MECH) celebrated its 60th anniversary and organized the meeting.
Already on Saturday morning one could visit the Jubilee exhibition and during the afternoon the accompanying participants could visit a Home and Porcelain Museum. The annual assembly took place in the community hall of the village of Horgen and was conducted without any problems. Directly afterwards all participants were entertained by the community of Horgen. A festive dinner concluded the Saturday.
On Sunday morning the participants and guest boarded a special train "Around Zürich". Two coaches of the Railvetia were pulled by the famous swiss Crocodile Be 6/8lll 13302 over main and secondary lines around Zürich. A great lunch waited for us in a traditional restaurant in Winterthur where the official part of the meeting ended.
The return trip took the direct connecting line from Winterthur via Bauma to Raperswil. From there all still remaining participants started the journey home.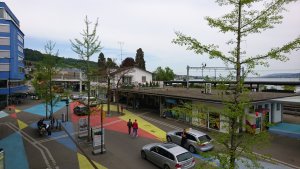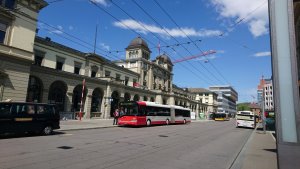 Station Horgen from the cummunity center Station Winterthur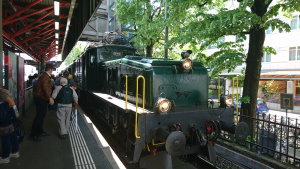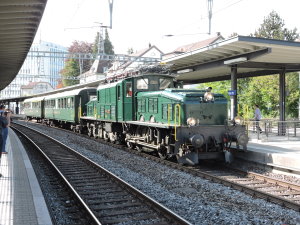 Crocodile Be 4/8 in Winthertur
Our special train