May 2018
General Assembly of the BDEF in Berlin
As the representative of MOROP I visited the general assembly of the BDEF from May 10 to 13; 2018 in Berlin. The most important part of this assembly was the 60th anniversary of the BDEF. Thursday was marked by several events and on Friday the were offered several visits during the morning. I visited with several participants the Drive Simulator of the ODEG railway company right in the middle of the city.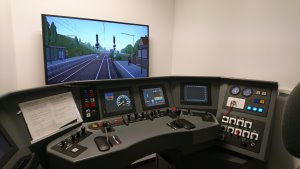 We had the opportunity to drive a KISS train in the simulator and discovered that the job of an engineer on a train includes much more then push the accelerator forward or backwards to break. Unfortunately we could not enjoy the full time available because the next program called us to the "Kaiserbahnhof" (Imperial Station) to Potsdam.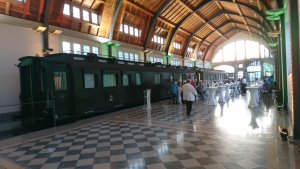 Inside this traditional building – wonderfully restored by the Deutsche Bahn and used as the academy for the leading echelon – the annual assembly of the BDEF took place.
After a smooth assembly we all got an inside look at the building and afterward assembled in the "Glashalle" for a reception by the Deutsche Bahn. Accompanied by imperial weather we could use the exterior and interior parts and the restored coaches of the Imperial Train added to the wonderful surrounding.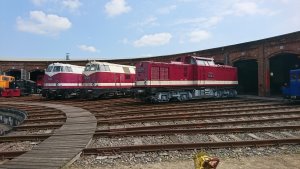 Saturday was – as every year – reserved for the "große Rundfahrt" (great journey). We took the historical fast train – Zwickauer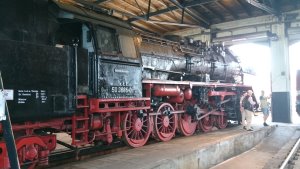 Traditionszug – pulled by a 218 from Lichtenberg to Wittenberge. There we visited the engine shed of the Salzwedeler Dampfbahnfreunde und ene engine shop ot the Potsdamer Eisenbahn-Gesellschaft. With an excellent guided tour and a great lunch the time passed much too fast. But the return journey offered us another highlight.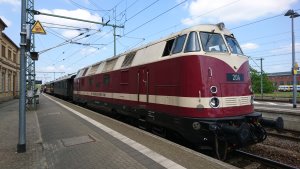 Special train before the return trip at the Wittenberge station.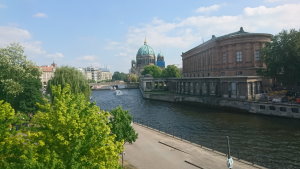 From the main line from Hamburg to Berlin the train departed before Gesundbrunnen towards the south in the direction of Potsdam. Accompanied by wonderful weather we passed the Kaiserbahnhof again and passed on the centre line from Wannsee – Westkreuz – Hauptbahnhof – Ostbahbhof through the whole city centre to our destination Lichtenberg.
It was a special experience to pass that line with its multiple stations without any stop.
A wonderful buffet dinner in the hotel concluded in appropriate style the 60th anniversary of the BDEF.
A Schienenbusfahrt on the VT 95 to Basdorf was the final touch to the meeting on Sunday.